Available Price: 19.50 € VAT included 5.50 % : 1.02 €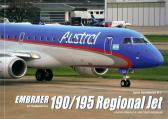 EMBRAER 190/195 Regional Jet en Sudamerica
Release of 5/12/2014
Author:
Gonzalo Carballo & Juan Carlos Rodriguez
Edition:
Serie Aerolineas n° 07
ISBN :
Developped from the Embraer 170, le 190 made its first flight in March 2004 and was certified in 2005. It can take from 98 to 114 passengers and is then a light transport aircraft though able of long distance flights thanks its winglets. It has been widely sold in Southern America, which is the subject of this booklet. It contains many nice colour photos and the text is completed by a list of all the machines being used in South America. Very nice !
Format : 27.5x19.5
Pages number : 50
Pictures number : 93
Language : Spanish
Color profiles :
Available Price: 19.50 €
Avions-bateaux suggestions :
BOEING 737-200 SERIES

19.50€

TTC

OA/A-4AR FIGHTINGHAWK

20.50€

TTC

SU-22 FITTER

19.50€

TTC

De Havilland DH-106 COMET 4.

19.50€

TTC

DASSAULT MIRAGE

20.50€

TTC

BOEING 707 SERIES.

19.50€

TTC

C-39 & C-47 SKYTRAIN.

20.50€

TTC