Bientôt en rupture Price: 19.50 € VAT included 5.50 % : 1.02 €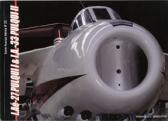 I.Aé-27 PULQUI I & I.A.-33 PULQUI II.
Release of 25/10/2012
Author:
Fernando C. BENEDETTO
Edition:
Série Fuerza Aerea N°22
ISBN :
A very nice work written about those totally unknown Argentinian prototypes Pulqui I and II. The Pulqui II was developped with the famous German designer Kurt Tank and 5 machines were built. Very rare photos and nice colour profiles illustrate this booklet.
Format : 27.5X19.5
Pages number : 62
Pictures number : 108
Language : Spanish
Color profiles : 11
Bientôt en rupture Price: 19.50 €
Avions-bateaux suggestions :
BOEING 737-200 SERIES

19.50€

TTC

OA/A-4AR FIGHTINGHAWK

20.50€

TTC

SU-22 FITTER

19.50€

TTC

De Havilland DH-106 COMET 4.

19.50€

TTC

DASSAULT MIRAGE

20.50€

TTC

BOEING 707 SERIES.

19.50€

TTC

C-39 & C-47 SKYTRAIN.

20.50€

TTC