Available Price: 19.00 € VAT included 5.50 % : 0.99 €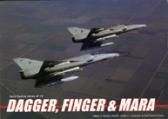 DAGGER, FINGER & MARA.
Release of 1/01/2011
Author:
J.F. Nunez Padin, J.C. Ccalesi & S. Rivas
Edition:
Serie Fuerza Aerea n° 19
ISBN :
New work on these Dagger, Finger and Mara bought in Israel, with many details of their actions during the Falklands war. Many new photos and splendid colour profiles. Very nice !
Format : 27,5x19
Pages number : 58
Pictures number : 124
Language : Spanish
Color profiles : 20
Available Price: 19.00 €
Avions-bateaux suggestions :
BOEING 737-200 SERIES

19.50€

TTC

OA/A-4AR FIGHTINGHAWK

20.50€

TTC

SU-22 FITTER

19.50€

TTC

De Havilland DH-106 COMET 4.

19.50€

TTC

DASSAULT MIRAGE

20.50€

TTC

BOEING 707 SERIES.

19.50€

TTC

C-39 & C-47 SKYTRAIN.

20.50€

TTC