Available Price: 16.50 € VAT included 5.50 % : 0.86 €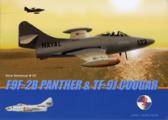 Grumman F9F-2B PANTHER & COUGAR.
Release of 1/06/2010
Author:
Jorge F. Nunez Padin
Edition:
Serie Aeronaval n° 29
ISBN :
New edition for the first jet fighter of the Argentine Naval Aviation, the famous F9F Panther. There is an high quality of print and more photos (more in color). Bravo for this reissue!
Format : 27,5x19
Pages number : 34
Pictures number : 72
Language : Spanish
Color profiles : 6
Available Price: 16.50 €
Avions-bateaux suggestions :
BOEING 737-200 SERIES

19.50€

TTC

OA/A-4AR FIGHTINGHAWK

20.50€

TTC

SU-22 FITTER

19.50€

TTC

De Havilland DH-106 COMET 4.

19.50€

TTC

DASSAULT MIRAGE

20.50€

TTC

BOEING 707 SERIES.

19.50€

TTC

C-39 & C-47 SKYTRAIN.

20.50€

TTC