Available Price: 16.50 € VAT included 5.50 % : 0.86 €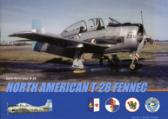 NORTH AMERICAN T-28 FENNEC.
Release of 1/05/2010
Author:
Jorge F. Nunez Padin
Edition:
Serie Aeronaval n° 28
ISBN :
A new edition of the Fennec of Argentin then Uruguayan Naval Aviation, with beautiful pictures and a good proportion in color. The complete history of all copies, all complemented by beautiful color profiles. Superb!
Format : 27,5x19
Pages number : 42
Pictures number : 94
Language : Spanish
Color profiles : 8
Available Price: 16.50 €
Avions-bateaux suggestions :
BOEING 737-200 SERIES

19.50€

TTC

OA/A-4AR FIGHTINGHAWK

20.50€

TTC

SU-22 FITTER

19.50€

TTC

De Havilland DH-106 COMET 4.

19.50€

TTC

DASSAULT MIRAGE

20.50€

TTC

BOEING 707 SERIES.

19.50€

TTC

C-39 & C-47 SKYTRAIN.

20.50€

TTC