Available Price: 16.50 € VAT included 5.50 % : 0.86 €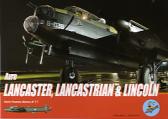 Avro LANCASTER, LANCASTRIAN & LINCOLN.
Release of 15/01/2010
Author:
Fernando C. Benedetto
Edition:
Serie Fuerza Aerea n° 17
ISBN :
History of the famous British aircraft in Argentina, with pretty pictures, some in color. The author obviously includes the list of all aircraft and history for each of them. Beautiful and exotic.
Format : 27,5x19
Pages number : 42
Pictures number : 72
Language : Spanish
Color profiles : 10
Available Price: 16.50 €
Avions-bateaux suggestions :
BOEING 737-200 SERIES

19.50€

TTC

OA/A-4AR FIGHTINGHAWK

20.50€

TTC

SU-22 FITTER

19.50€

TTC

De Havilland DH-106 COMET 4.

19.50€

TTC

DASSAULT MIRAGE

20.50€

TTC

BOEING 707 SERIES.

19.50€

TTC

C-39 & C-47 SKYTRAIN.

20.50€

TTC