Available Price: 32.00 € VAT included 5.50 % : 1.67 €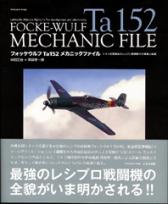 Focke-Wulf Ta 152 MECHANIC Files.
Release of 1/01/2010
Author:
Dainippon Kaiga
Edition:
MODEL GRAFIX N° 23015
ISBN :
A comprehensive guide to the Ta152, with page after page of general layout and detail drawings as well as photos of the lone surviving airframe. Plus extensive coverage of Nakata Masaharu's stunning 1/32 Ta152H build, based on the Hasegawa Fw190D, although not much is left of the 190D by the time he is done! All color. All text is in Japanese. Softcover with dust jacket.
Format : 21x26
Pages number : 96
Pictures number : 160
Language : Japanese
Color profiles : 0
Available Price: 32.00 €
Avions-bateaux suggestions :
Nakajima Ki-43 Hayabusa. The pictorial brief history of the 50th Squadron.

26.00€

TTC

The IJN Carrier Bomber Suisei D4Y Series Photo & Illustrated Vol.2

31.00€

TTC

The IJN Interceptor SHIDEN N1 K1 - J Series.

35.00€

TTC

Battle of Guadalcanal Aerial Warfare Vol.1

28.00€

TTC

IJN Air Groups in the Southwest Pacific Theater.

29.00€

TTC

IJN Aircraft Paint Scheme Handbook : Zero Fighter

30.00€

TTC

IJN Air Units Battlefied Photograph Collection.

28.00€

TTC