Available Price: 35.00 € VAT included 5.50 % : 1.82 €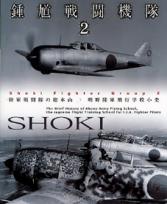 SHOKI FIGHTER GROUP - Vol.02.
Release of 10/08/2009
Author:
Divers
Edition:
MODEL GRAFIX N° 22996
ISBN :
A pictorial history of the 70th Sentai, the defenders of Tokyo. This second volume is devoted to school hunting Akeno, which formed the elite of the Japanese fighter pilots since the twenties. The photos are superb and varied. Perfectly complements the first part. Not to be missed !
Format : 21x25.5
Pages number : 144
Pictures number : 143
Language : Japanese
Color profiles : 18
Available Price: 35.00 €
Avions-bateaux suggestions :
Interceptor Aircraft Kawanishi N1K Detail Photo Kawanishi Unit 5312

29.00€

TTC

ZUIUN FLIGHT

21.50€

TTC

Nakajima Ki-43 Hayabusa. The pictorial brief history of the 50th Squadron.

26.00€

TTC

The IJN Carrier Bomber Suisei D4Y Series Photo & Illustrated Vol.2

31.00€

TTC

The IJN Interceptor SHIDEN N1 K1 - J Series.

35.00€

TTC

Battle of Guadalcanal Aerial Warfare Vol.1

28.00€

TTC

IJN Air Groups in the Southwest Pacific Theater.

29.00€

TTC