Available Price: 23.00 € VAT included 5.50 % : 1.20 €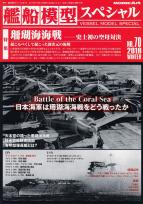 MODEL ART N°70 - The Battle of the Coral Sea.
Release of 20/11/2018
Author:
Edition:
VESSEL MODEL ART
ISBN :
The famous Battle of the Coral Sea is the main subject of this issue, depicting the ships which took part on either side : carriers, destroyers etc. Another article reviews the new 1/350 scale model of the French battleship Dunkerque by Hobby Boss. Other articles fulfill the issue.
Format : A4
Pages number : 140
Pictures number : 250
Language : Japanese
Color profiles : 3
Available Price: 23.00 €
Avions-bateaux suggestions :
MODEL ART N°75 - Light Cruiser Type "Kuma", "Nagara", "Sendai".

24.00€

TTC

MODEL ART N°74 - IJN Heavy cruiser Mogami/Suzuya Type & Ibuki.

24.00€

TTC

MODEL ART N°73 - IJN battleship at the beginning of Pacific War.

24.00€

TTC

MODEL ART N°72 - Modeling & Painting Techniques

23.00€

TTC

MODEL ART N°71 - YAMATO Last Stand

23.00€

TTC

MODEL ART N°69 - IJN DRAGONS SORYU, HIRYU, UNRYU.

23.00€

TTC

MODEL ART N°68 - Battle of the Philippine Sea.

23.00€

TTC