Available Price: 23.00 € VAT included 5.50 % : 1.20 €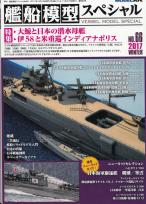 MODEL ART N°66 - TAIGEI and IJN Submarines / I-58 & USS Indianapolis.
Release of 12/12/2017
Author:
Edition:
ISBN :
This issue is quite unusual as it is really heterogeneous, with a number of articles in which you go from the IJN submarine tenders through to the Japanese inter island passenger ships. There is also an article about the I-58 submarine which sunk the USS Indianapolis cruiser on July 30, 1945... among others. Very nice !
Format : A4
Pages number : 136
Pictures number : 250
Language : Japanese
Color profiles :
Available Price: 23.00 €
Avions-bateaux suggestions :
MODEL ART N°74 - IJN Heavy cruiser Mogami/Suzuya Type & Ibuki.

24.00€

TTC

MODEL ART N°73 - IJN battleship at the beginning of Pacific War.

24.00€

TTC

MODEL ART N°72 - Modeling & Painting Techniques

23.00€

TTC

MODEL ART N°71 - YAMATO Last Stand

23.00€

TTC

MODEL ART N°70 - The Battles of the Coral Sea.

23.00€

TTC

MODEL ART N°69 - IJN DRAGONS SORYU, HIRYU, UNRYU.

23.00€

TTC

MODEL ART N°68 - Battle of the Philippine Sea.

23.00€

TTC