Available Price: 23.00 € VAT included 5.50 % : 1.20 €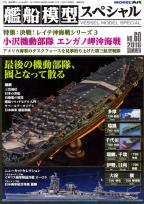 MODEL ART N° 60 - The Battle of Leyte Gulf Series - 3 - The battle of Cape Egano.
Release of 10/07/2016
Author:
Edition:
ISBN :
Third part of a series dedicated to the famous Battle of Leyte gulf and in this case the Battle of Cape Engano. The models are mainly those of Admiral Ozawa's northern and diversionary force which comprised the carriers Zuikaku, Zuiho, Chitose and Chiyoda (all sunk), the battleships Ise and Hyuga etc... As usual, the models are very fine ! US ships are not forgotten and a few pages describe the markings of the aircraft used by both sides.
Format : A4
Pages number : 136
Pictures number : 250
Language : Japanese
Color profiles : 4
Available Price: 23.00 €
Avions-bateaux suggestions :
American Aircraft Carrier Material Photo Book 1920s-1945

29.90€

TTC

MODEL ART N°76 - The world of a vessel Model Diorama Fascinated by the production.

25.00€

TTC

MODEL ART N°75 - Light Cruiser Type "Kuma", "Nagara", "Sendai".

24.00€

TTC

MODEL ART N°74 - IJN Heavy cruiser Mogami/Suzuya Type & Ibuki.

24.00€

TTC

MODEL ART N°73 - IJN battleship at the beginning of Pacific War.

24.00€

TTC

MODEL ART N°72 - Modeling & Painting Techniques

23.00€

TTC

MODEL ART N°71 - YAMATO Last Stand

23.00€

TTC