Available Price: 28.00 € VAT included 5.50 % : 1.46 €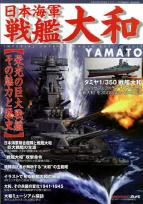 Model Art SUPER ILLUSTRATION n° 839
Release of 3/01/2012
Author:
Divers
Edition:
IMPERIAL JAPANESE NAVY BATTLESHIP YAMATO
ISBN :
All about the Yamato, with a special look at the new 1/350 Tamiya Yamato kit and a tour of the massive 1/10 scale model on display at the Yamato museum in Kure.
A summary of certain texts was made in English at the end of this issue. Finally some help in reading for the number 839 !
Format : A4
Pages number : 116
Pictures number : 100
Language : Japanese
Color profiles : 10
Available Price: 28.00 €
Avions-bateaux suggestions :
MODEL ART N°73 - IJN battleship at the beginning of Pacific War.

24.00€

TTC

MODEL ART N°72 - Modeling & Painting Techniques

23.00€

TTC

MODEL ART N°71 - YAMATO Last Stand

23.00€

TTC

MODEL ART N°70 - The Battles of the Coral Sea.

23.00€

TTC

MODEL ART N°69 - IJN DRAGONS SORYU, HIRYU, UNRYU.

23.00€

TTC

MODEL ART N°68 - Battle of the Philippine Sea.

23.00€

TTC

MODEL ART N°67 - On her Majesty's Aircraft Carriers.

23.00€

TTC