Show only:
MAGAZINES
First magazine of the group LELA Press, AVIONS presents since 1993 the history of aviation in all its forms.
From the pioneers to the modern era, but with a predilection for the two world wars, AVIONS offers you every two months on 96 pages a wide variety of topics: technical studies, historical units, biographies, testimonials, profiles and plans. It benefits for this from the competition of the best aeronautical authors of the world!
An unavoidable publication with exceptional stories for all history buffs.
Do not miss out on newsstands ... or better subscribe to make real savings, receive your magazine directly to you and enjoy the Privileges CLUB OF SUBSCRIBERS!
Promotional books in this collection do not benefit from the Discount Club Subscribers.
Price: 12.00 € Available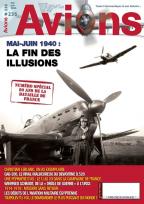 AVIONS N°235
Release of 24/06/2020
MAI-JUIN 1940 : la fin des illusions. Numéro Spécial 80 ans de la Bataille de France.
EDITORIAL - From one war to another ... Incompetent leaders, a paralyzed government, tens of thousands dead, a total rout, does that remind you of anything? But no, I'm not talking about... [read more]