Available Price: 12.00 € VAT included 2.10 % : 0.25 €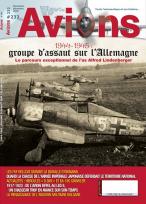 AVIONS N°232
Release of 23/10/2019
Author:
Edition:
1944-1945. Groupe d'assaut sur l'Allemagne. Le parcours exceptionnel de l'as Alfred Lindenberger.
ISBN :
Contents of this No. 232:
- In combat in two world wars: the ace Alfred Lindenberger. Complete story, by Jörg Mückler.
- The Grumman F6F Hellcat in the Second World War: 1945. Objective: Okinawa! By Michel Ledet.
- Arawasi, the "wild eagles" of the Japanese Imperial Army. The defense of the national territory. By Bernard Baëza
- The revival of Bulgarian military aviation in the 1920s. Complete story, by Lennart Andersson.
- From the Eiffel plane to LeO 9. The hunter too far ahead of his time. Complete story, by Philippe Ricco.
- News: landing strips on Normandy. Complete account, by Claude Archambault.
- News: The Boeing EA-18G Growler. Fifth and last part, by Stéphane Nicolaou.
- Info-hobbies. By Michel Ledet.


Format : A4
Pages number : 96
Pictures number : 200
Language : French
Color profiles : 10
Available Price: 12.00 €
Avions-bateaux suggestions :
AVIONS N°235

12.00€

TTC

AVIONS N°234

12.00€

TTC

AVIONS N°233

12.00€

TTC

AVIONS N°231

12.00€

TTC

AVIONS N°230

12.00€

TTC

AVIONS N°229 - out of print !

12.00€

TTC

AVIONS N°228. out of print !

12.00€

TTC