Available Price: 12.00 € VAT included 2.10 % : 0.25 €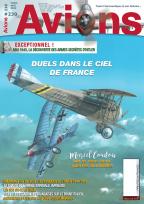 AVIONS N°230
Release of 24/06/2019
Author:
Edition:
Marcel Coadou. Un as dans deux guerres mondiales
ISBN :
In this N ° 230:
- Courrier des lecteur "Special Clostermann".
- May 1945: to discover the last secret weapons of Hitler. By Christophe Cony.
- Marcel Coadou. Ace in two world wars. First part. By Christophe Cony and Jean-Jacques Leclercq.
- The Grumman F6F Hellcat in the Second World War. The attacks of winter 1944-1945. By Michel Ledet.
- Arawasi, the "wild eagles" of the Japanese Imperial Army. 1944-1945: the last external fronts ... By Bernard Baëza.
- FIAT CR 42 Falco. Part 6: Units based in Italy. By Luigino Caliaro.
French squadrons on the Venetian front. Part 7: Spring-Summer 1918. By Luigino Caliaro and Roberto Gentilli, with the collaboration of Christophe Cony.
- Info-hobbies. By Michel Ledet and Christophe Cony.
Format : A4
Pages number : 96
Pictures number : 200
Language : French
Color profiles : 10
Available Price: 12.00 €
Avions-bateaux suggestions :
AVIONS N°235

12.00€

TTC

AVIONS N°234

12.00€

TTC

AVIONS N°233

12.00€

TTC

AVIONS N°232

12.00€

TTC

AVIONS N°231

12.00€

TTC

AVIONS N°229 - out of print !

12.00€

TTC

AVIONS N°228. out of print !

12.00€

TTC