Available Price: 12.00 € VAT included 2.10 % : 0.25 €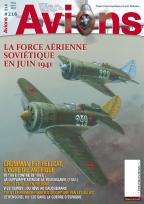 AVIONS N°216
Release of 23/02/2017
Author:
Edition:
LA FORCE AÉRIENNE SOVIÉTIQUE EN JUIN 44
ISBN :
IN SUMMARY :
- The Soviet Air Force in June 1944 (full story). By Mikhail Timine.
- Grumman F6F HELLCAT, the ogre of the Pacific. By Michel Ledet.
- Bf 109 E against Bf 109 E: the Luftwaffe attacks Yugoslavia - 1941 (2nd and last part). By Boris Ciglic.
- Mig-29 ET Su-22 in Poland. By Iulian Robanescu.
- V-22 OSPREY: from dream to nightmare (1st part). By Stephane Nicolaou.
- 1918: the first Fokker D.VII captured by the Allies (full story). By Christophe Cony.
- The Henschel Hs 126 in the Spanish War (1st part). By José Miguel Sales Lluch & Juan Carlos Salgado.
Format : A4
Pages number : 96
Pictures number : 200
Language : French
Color profiles : 10
Available Price: 12.00 €
Avions-bateaux suggestions :
AVIONS N°235

12.00€

TTC

AVIONS N°234

12.00€

TTC

AVIONS N°233

12.00€

TTC

AVIONS N°232

12.00€

TTC

AVIONS N°231

12.00€

TTC

AVIONS N°230

12.00€

TTC

AVIONS N°229 - out of print !

12.00€

TTC