Available Price: 23.00 € VAT included 5.50 % : 1.20 €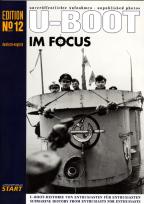 IM FOCUS N° 12 - U-BOOT.
Release of 10/05/2015
Author:
Divers
Edition:
Luftfahrtverlag Start
ISBN :
978-3-941437-25-8
This is again a wonderful issue with never before published photos, of which the rarely seen Type XXI and XVIIB, both "end of war" types. The other articles are also most interesting and some colour shots fulfill the series of documents found in this issue. Very nice !
Format : A4
Pages number : 48
Pictures number : 50
Language : German / English
Color profiles : 3
Available Price: 23.00 €
Avions-bateaux suggestions :
IM FOCUS N° 17 - U-BOOT

23.00€

TTC

IM FOCUS N° 16 - U-BOOT

23.00€

TTC

IM FOCUS N° 15 - U-BOOT

23.00€

TTC

IM FOCUS N° 14 - U-BOOT.

23.00€

TTC

IM FOCUS N° 13 - U-BOOT.

23.00€

TTC

IM FOCUS N° 11 - U-BOOT.

23.00€

TTC

IM FOCUS N° 10 - U-BOOT.

23.00€

TTC