Available Price: 20.00 € VAT included 5.50 % : 1.04 €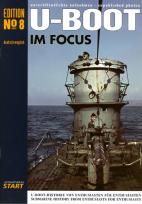 IM FOCUS N° 08 - U-BOOT.
Release of 9/02/2012
Author:
Divers
Edition:
Luftfahrtverlag Start
ISBN :
Another excellent and very nice issue in this series, with nice and never before published photos. Some are really excellent and in colour ! Every issue is surprising so do not miss any of them. The quality improves at every new issue and it seems the subject is endless... Do not miss this one !
Format : A4
Pages number : 48
Pictures number : 48
Language : German / English
Color profiles : 3
Available Price: 20.00 €
Avions-bateaux suggestions :
IM FOCUS N° 17 - U-BOOT

23.00€

TTC

IM FOCUS N° 16 - U-BOOT

23.00€

TTC

IM FOCUS N° 15 - U-BOOT

23.00€

TTC

IM FOCUS N° 14 - U-BOOT.

23.00€

TTC

IM FOCUS N° 13 - U-BOOT.

23.00€

TTC

IM FOCUS N° 12 - U-BOOT.

23.00€

TTC

IM FOCUS N° 11 - U-BOOT.

23.00€

TTC