Not available Price: 60.00 € VAT included 5.50 % : 3.13 €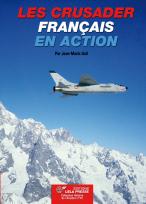 Les CRUSADER FRANCAIS en action. Out of print !
Release of 26/11/2018
Author:
J. Marie GALL
Edition:
Collection Histoire de l'Aviation n°16.
ISBN :
978-2-37468-011-8
REPRINT IN 2018.
After his first flight in March 1955, the Crusader smashed all records of the time. The US F-8, which in Vietnam have the best ratio of victories / losses of conflict aircraft, finish their career in 1987. The Philippine Air Force also uses them a few years. The American industry produced 1261 copies. More than a thousand photos (most in color) and drawings.
- A4 size - 368 pages - 1000 photos.
We have just seen an error on pages 190 & 307. Here are the corrected PDFs.
Jean-Marie Gall, author and editor of CRUSADER is really sorry.
These PDF defects have unfortunately been passed through the controls.
Format : A4
Pages number : 368
Pictures number : 1000
Language : French
Color profiles :
Not available Price: 60.00 €
Avions-bateaux suggestions :
L'AÉROSTATION de l'Armée de l'Air - 1934-1946. Les unités, les opérations, les matériels.

29.50€

TTC

Les AÉROPLANES VOISIN. Rest 35 copies then out of print !

39.00€

TTC

La SAGA ETENDARD. Tome 02. Sold out!

62.00€

TTC

La SAGA ETENDARD. Tome 01. Out of print !

62.00€

TTC

Du Fw 190 au NC 900. Usines souterraines et blindées en France. Out of print !

64.00€

TTC

SAMOURAÏ sur Porte-avions - Tome II.

59.00€

TTC

Carrier-borne SAMOURAÏ - Tome I .

55.00€

TTC