Available Price: 59.00 € VAT included 5.50 % : 3.08 €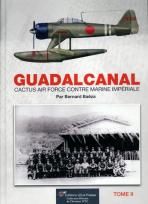 GUADALCANAL, Cactus Air Force against Imperial Navy. Vol.02.
Release of 1/10/2015
Author:
Bernard Baeza
Edition:
HISTOIRE DE L'AVIATION N°32.
ISBN :
978-2-914017-84-8
The second volume of Guadalcanal: Cactus Air Force against Imperial Navy describes the preparation and execution of the third against attack Japanese why, this time, Tokyo undertook drastic measures. We learn why and how the Cactus Air Force, virtually destroyed in mid-October, managed to rise from the ashes to ultimately discourage the Japanese command ... The period from October 11 to November 15, 1942 which also saw him place significant naval battles whose naval battle of Santa Cruz islands is illustrated with 800 photos, 56 color profiles and 19 illustrations "3D". Freaks detail also find attached genuine operational documents of the time, the list of drivers who have acquired the title aces this season and the number of their victories. Best of all, are also listed, with the key serial number, the name and the fate of their pilot and the date and circumstances of their destruction, all devices of the US Navy and Marine Corps lost on that front. In his time, Sun rising over Australia had been called "work of craftsmanship." With Guadalcanal: Cactus Air Force against Imperial navy, Bernard Baeza recidivism by giving us an even denser and more detailed work ... a gem that will delight history buffs, aviation and model making.

Format : A4
Pages number : 332
Pictures number : 800
Language : French
Color profiles : 56
Available Price: 59.00 €
Avions-bateaux suggestions :
L'AÉROSTATION de l'Armée de l'Air - 1934-1946. Les unités, les opérations, les matériels.

29.50€

TTC

Les AÉROPLANES VOISIN

39.00€

TTC

Du Fw 190 au NC 900. Usines souterraines et blindées en France.

64.00€

TTC

SAMOURAÏ sur Porte-avions - Tome II.

59.00€

TTC

Carrier-borne SAMOURAÏ - Tome I .

55.00€

TTC

LES AVIONS BREGUET. Vol.2 - Le règne du Monoplan.

59.00€

TTC

Breguet aeroplanes Volume I - the biplane era.

59.00€

TTC