Available Price: 59.00 € VAT included 5.50 % : 3.08 €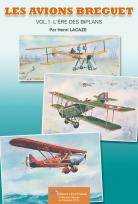 Breguet aeroplanes Volume I - the biplane era.
Release of 13/01/2016
Author:
Henri LACAZE.
Edition:
Collection Histoire de l'Aviation n°34
ISBN :
978-2-914017-88-6
An engineer by profession, Louis Breguet started his career in electrical construction but after 1905 moved into aeronautics and airplanes. He took his first tentative steps in design and construction experimenting with rotorcraft or gyroplanes, before focusing on biplane design with moderate success. This book presents in a structured way Breguet's early airplane designs which had reached No. 150 in 1914 and the outbreak of war. However his pusher and then his rotary-engined designs were judged unreliable and were not supported by the Army. His renown grew as a result of his association with the Michelin brothers and then to the Breguet Type XIV designed with Marcel Vullierme, widely considered one of the best aircraft of WWI and built in large numbers with some 600 being ordered by the United States Army Air service alone. After the war the designer/constructor continued to develop the name Breguet with the Type XIX and 27, but while both types achieved fame and Breguet's notoriety continued to grow, his dream of developing air transport was only partially achieved. This first volume of two covers all Breguet types up to 1933. Breguet's aircraft are presented with photos and 3-views in the same spirit as our earlier volume devoted to Morane-Saulnier aircraft.
Includes some 750 photos and charts over 272 pages.
Format : A4
Pages number : 272
Pictures number : 750
Language : French
Color profiles :
Available Price: 59.00 €
Avions-bateaux suggestions :
L'AÉROSTATION de l'Armée de l'Air - 1934-1946. Les unités, les opérations, les matériels.

29.50€

TTC

Les AÉROPLANES VOISIN

39.00€

TTC

Du Fw 190 au NC 900. Usines souterraines et blindées en France.

64.00€

TTC

SAMOURAÏ sur Porte-avions - Tome II.

59.00€

TTC

Carrier-borne SAMOURAÏ - Tome I .

55.00€

TTC

LES AVIONS BREGUET. Vol.2 - Le règne du Monoplan.

59.00€

TTC

GUADALCANAL, Cactus Air Force against Imperial Navy. Vol.02.

59.00€

TTC