Not available Price: 35.50 € VAT included 5.50 % : 1.85 €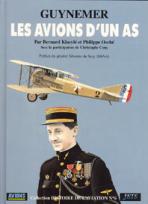 GUYNEMER, les avions d'un As. Out of print !
Release of 1/11/1998
Author:
Bernard Klaeylé & Philippe Osché
Edition:
Histoire de l'Aviation n° 6
ISBN :
Guynemer is the most famous french ace of WWI and the authors decided to publish this book as the Armée de l'Air was commemorating the 80th anniversary of the ace's death in September 1997. Many new and never before published documents and photos ; in 208 pages, you will discover a WW1 pilot's life illustrated by more than 250 photos. 18 colour profiles by Serge Jamois depict Guynemer's aircraft, the well known Spad fighter but also the Nieuports and Moranes he flew on before.
Format : A4
Pages number : 208
Pictures number : 299
Language : French
Color profiles : 17
Not available Price: 35.50 €
Avions-bateaux suggestions :
L'AÉROSTATION de l'Armée de l'Air - 1934-1946. Les unités, les opérations, les matériels.

29.50€

TTC

Les AÉROPLANES VOISIN. Rest 35 copies then out of print !

39.00€

TTC

La SAGA ETENDARD. Tome 01. Out of print !

62.00€

TTC

Les CRUSADER FRANCAIS en action. Out of print !

60.00€

TTC

La SAGA ETENDARD. Tome 02. Sold out!

62.00€

TTC

Du Fw 190 au NC 900. Usines souterraines et blindées en France. Out of print !

64.00€

TTC

SAMOURAÏ sur Porte-avions - Tome II.

59.00€

TTC