Available Price: 19.00 € VAT included 5.50 % : 0.99 €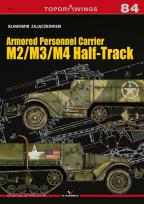 Armored Personnel Carrier M2/M3/M4 Half-Track
Release of 21/10/2019
Author:
Slawomir Zajaczkowski
Edition:
KAGERO - TopDrawing n° 7084
ISBN :
978-83-66148-60-4
In the '30s, Americans began working on a modern vehicle for cavalry reconnaissance and artillery units in freshly formed armoured and motorized units. The American command became interested in French half-track vehicle designs. On their basis the American industry proposed its own solutions. In 1938, White Motor Company created a vehicle called T-7, which was a combination of the design of the M3 scout car and the T-9 half-track transporter. Year later, a version with a more powerful engine was prepared.
Format : A4
Pages number : 24
Pictures number :
Language : English
Color profiles : 8
Available Price: 19.00 €
Avions-bateaux suggestions :
Sturmpanzer IV Brummbär

19.00€

TTC

German Medium Tank Panzerkampfwagen IV AUSF. G/H/J

18.00€

TTC

Eastern Front

16.25€

TTC

The 38M Toldi Light Tank

23.75€

TTC

History of the Turan medium and heavy tanks in World War II

18.00€

TTC

Pz.Kpfw. VI. Ausf.B Tiger II (Sd.Kfz.182)

19.00€

TTC

M4 Sherman (M4, M4A1, M4A4 Firefly)

19.00€

TTC