Available Price: 23.75 € VAT included 5.50 % : 1.24 €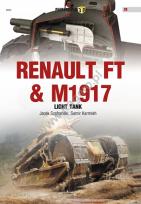 Renault FT & M1917 Light Tank
Release of 10/12/2018
Author:
Jacek Szafra?ski, Samir Karmieh
Edition:
KAGERO - PhotoSniper N°29
ISBN :
978-83-66148-04-8
Special album fully dedeicated to the famous WW1 French tank Renault FT. The short historical part is followed by a photographic part of a museum machine ; then comes a series of 3D renders detailing the tank. Very nice and useful to the modeller.
Format : A4
Pages number : 180
Pictures number : 156
Language : English
Color profiles : 100
Available Price: 23.75 €
Avions-bateaux suggestions :
BEUTEPANZER.

20.00€

TTC

M16 Half-Track

19.00€

TTC

PANZERKNACKER

24.95€

TTC

Jagdpanzer IV L/48 and L/70

19.00€

TTC

Armored Personnel Carrier M2/M3/M4 Half-Track

19.00€

TTC

Romanian Armored Forces In World War II

20.50€

TTC

Medium Tank M3 Lee I

19.00€

TTC