Available Price: 23.75 € VAT included 5.50 % : 1.24 €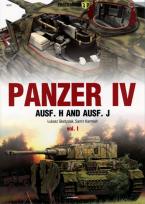 Panzerkampfwagen IV Ausf. H and Ausf. J. Vol. I
Release of 15/12/2015
Author:
Samir Karmieh, Lukasz Gladysiak
Edition:
KAGERO FOTOSNIPER N°0020
ISBN :
978-83-64596-85-8
This publication's aim is to bring together current knowledge on Pz.Kpfw. IV Ausf. H and Ausf. J tanks. During his research, the author has used literature in Polish, German and English. In order to provide the reader with selected episodes from the frontline service of these vehicles, the author also referred to memoirs and other archive sources. Dozens of photographs complete the book, including many taken during active service of both variants of the tank or shortly after its completion, come from Kagero Publishing House Archive based in Lublin, Bundesarchiv-Militärarchiv in Freiburg and private collections. There are also many unpublished photographs of Pz.Kpfw. IV Ausf. J tanks used by troops of the 10th SS Panzer Division Frundsberg, found in April 2011 in Kluczewo near Stargard, currently undergoing a major renovation under the supervision of specialists from the Museum of Polish Arms (Muzeum Or??a Polskiego) in Ko?obrzeg. These are supplemented by three-dimensional digital illustrations of complete vehicles and their details.
Format : A4
Pages number : 112
Pictures number : 136
Language : Polish / English
Color profiles : 57
Available Price: 23.75 €
Avions-bateaux suggestions :
History of the Turan medium and heavy tanks in World War II

18.00€

TTC

Pz.Kpfw. VI. Ausf.B Tiger II (Sd.Kfz.182)

19.00€

TTC

M4 Sherman (M4, M4A1, M4A4 Firefly)

19.00€

TTC

Sturmgeschütz III A, B, F, F L43, F/8, G

19.00€

TTC

German Medium Tank Panzerkampfwagen III from Ausf. H to Ausf. N

18.00€

TTC

T-34

18.75€

TTC

Panzer III Ausf. J/L/M/K

19.00€

TTC