Available Price: 12.50 € VAT included 5.50 % : 0.65 €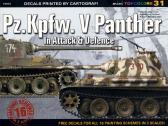 Pz.Kpfw. V Panther In Attack & Defence (decals)
Release of 1/06/2012
Author:
Marek Jaszczo?t, Robert Wroblewski, Arkadiusz Wrobel
Edition:
KAGERO - TopColors n°31
ISBN :
978-83-62878-34-5
A big decal sheet with 1:72, 1:48 and 1:35 individual and national markings for 16 Pz.Kpfw. V Panther tanks. The decal sheet was printed by Cartograf. Each painting scheme is depicted on beautifully drawn colour profile and described in the 20 page guidebook with English and Polish text.
Format : 29.7X21
Pages number : 20
Pictures number : 18
Language : Polish / English
Color profiles : 16
Available Price: 12.50 €
Avions-bateaux suggestions :
Zitadelle: the SS-Panzer-Korps on the attack July 1943

24.95€

TTC

Panzerkampfwagen VI Tiger

19.00€

TTC

Challenger 2

23.75€

TTC

Renault FT & M1917 Light Tank

23.75€

TTC

Operational History of the Hungarian Armoured Troops in World War II.

23.75€

TTC

Before the Brith of the MBT. Western Tank Development 1945-1959.

24.50€

TTC

SS-Kampfgruppe Peiper 1943-1945.

31.95€

TTC