Available Price: 29.95 € VAT included 5.50 % : 1.56 €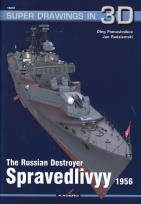 The Russian Destroyer Spravedlivyy - 1956.
Release of 13/11/2018
Author:
Oleg Pomoshnikov & Jan Radziemski
Edition:
KAGERO - 3D N°16067
ISBN :
978-83-66148-03-1
The destroyer Spravedlivyy was constructed in the Severniy Sudostroitelniy Zavod imeni A.A. Zhdanova (Shipyard No. 190) in 1954–1956 as one of 27 Project 56 destroyers, also known as the Spokoinyy class (designated Kotlin by NATO). They were destroyers in the old fashion, created in the early 1950s by designers of the 53rd Central Design Bureau (CKB-53) led by head designer A.L. Fisher, who was also the author of Project 30bis (NATO: Skoryy-class).
Format : A4 + dépliant
Pages number : 80
Pictures number :
Language : English
Color profiles : 110
Available Price: 29.95 €
Avions-bateaux suggestions :
The Japanese Battleship Kirishima 1940

29.95€

TTC

Skoryi-class Destroyer

19.00€

TTC

Imperial Japanese Navy Type B-1 Submarine. I-15 (1939) and I-37 (1943)

29.95€

TTC

The Russian Cruiser Varyag

19.00€

TTC

The Brandenburg - class Battleships 1890-1918

29.95€

TTC

Italian Vittorio Veneto-Class Battleships

24.75€

TTC

The Japanese Battleship Hyuga

29.95€

TTC