Available Price: 29.95 € VAT included 5.50 % : 1.56 €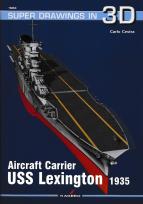 Aircraft Carrier USS Lexington 1935.
Release of 3/08/2018
Author:
Carlo Cestra
Edition:
KAGERO - 3D N°16064
ISBN :
978-83-951575-1-6
This monography let us discover the US fleet carrier USS Lexington (Saratoga sister-ship) in her 1935 state. The many drawings show the big ship in detail. Do not miss this book if you want to build a model of this carrier !
Format : A4 + dépliant
Pages number : 94
Pictures number : 160
Language : English
Color profiles :
Available Price: 29.95 €
Avions-bateaux suggestions :
Skoryi-class Destroyer

19.00€

TTC

The Russian Cruiser Varyag

19.00€

TTC

Imperial Japanese Navy Type B-1 Submarine. I-15 (1939) and I-37 (1943)

29.95€

TTC

The Brandenburg - class Battleships 1890-1918

29.95€

TTC

Italian Vittorio Veneto-Class Battleships

24.75€

TTC

The Japanese Battleship Hyuga

29.95€

TTC

The Heavy Cruiser Prinz Eugen. Reissue !

29.95€

TTC