Available Price: 19.00 € VAT included 5.50 % : 0.99 €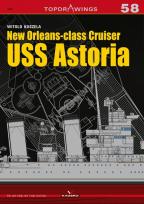 New Orleans-class Cruiser USS Astoria
Release of 4/07/2018
Author:
Witold Koszela
Edition:
KAGERO - TopDrawing n° 7058
ISBN :
978-83-65437-35-8
USS Astoria was a cruiser of the New Orleans-class, built at the Puget Sound Navy Yard, Bremerton, Washington.
Her keel was laid down on September 1, 1930. She was launched on December 16, 1933, and commissioned in the US Navy on April 28, 1934.
20 pages, 5 color profiles, 17 sheet with modeling plans and 2 double-sided A2 sheet with modeling plans.
Format : A4 + dépliant
Pages number : 20
Pictures number :
Language : English
Color profiles : 5
Available Price: 19.00 €
Avions-bateaux suggestions :
The Japanese Battleship Kirishima 1940

29.95€

TTC

Skoryi-class Destroyer

19.00€

TTC

The Russian Cruiser Varyag

19.00€

TTC

Imperial Japanese Navy Type B-1 Submarine. I-15 (1939) and I-37 (1943)

29.95€

TTC

The Brandenburg - class Battleships 1890-1918

29.95€

TTC

Italian Vittorio Veneto-Class Battleships

24.75€

TTC

The Japanese Battleship Hyuga

29.95€

TTC