Available Price: 17.50 € VAT included 2.10 % : 0.36 €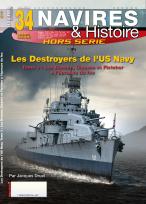 Les Destroyers de l'US Navy, Tome 3 : Les Benson, Gleaves et Fletcher à l'épreuve du feu.
Release of 10/10/2018
Author:
Jacques DRUEL
Edition:
HORS-SÉRIE NAVIRES & HISTOIRE N°34 - 3D.
ISBN :
The entry into the war become inevitable, it is with only a hundred modern but operationally outdated destroyers, that the US Navy will approach the conflict. As twenty years ago, the US naval industry will achieve the feat of launching no less than one hundred and seventy-five Fletcher, and complete the series of Benson and Gleaves for a total of two hundred and seventy-one units, all classes combined . The Fletcher will remain emblematic of Japan's death struggle with the United States during the Pacific War, and is considered by many historians to be the quintessence of the destroyer.

Format : A4
Pages number : 128
Pictures number : 168
Language : French
Color profiles : 30
Available Price: 17.50 €
Avions-bateaux suggestions :
LES SOUS-MARINS ITALIENS, 1ére partie.

17.50€

TTC

LES CUIRASSÉS HMS NELSON ET HMS RODNEY.

17.50€

TTC

LES SOUS-MARINS DE LA KRIEGSMARINE 1935-1943 5éme partie : La fin.

17.50€

TTC

LES CUIRASSÉS DE POCHE DE LA KRIEGSMARINE

17.50€

TTC

Le tournant de la Bataille de l'Atlantique : Convoi ONS 5.

17.50€

TTC

BATTLESHIPS CLASS '' SOUTH DAKOTA ''.

17.50€

TTC

LES CUIRASSÉS DE LA CLASSE "NORTH CAROLINA".

17.50€

TTC