Available Price: 17.50 € VAT included 2.10 % : 0.36 €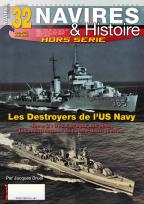 Les Destroyers de l'US Navy, Tome 2: Des Farragut aux Sims, les constructions d'entre-deux guerres.
Release of 7/02/2018
Author:
Jacques DRUEL
Edition:
HORS-SÉRIE NAVIRES & HISTOIRE N°32 - 3D.
ISBN :
After a forced break of a dozen years, the first American destroyers of new generation are put on hold in 1932. All the successive classes give the possibility to the US Navy to test various options in the fields of the propulsion and armament. These experiments will eventually lead to the Fletcher who will behave successfully during the Pacific War.
Yet the initial shock against Japan will be borne by these units built in the 1932-1940 period, and Farragut to the Sims will all bravely fight during the first two years of the conflict.
About 180 images and 30 perspective views.
Format : A4
Pages number : 128
Pictures number : 180
Language : French
Color profiles : 30
Available Price: 17.50 €
Avions-bateaux suggestions :
LES SOUS-MARINS ITALIENS, 2ème partie.

17.50€

TTC

LES SOUS-MARINS ITALIENS, 1ére partie.

17.50€

TTC

LES CUIRASSÉS HMS NELSON ET HMS RODNEY.

17.50€

TTC

LES SOUS-MARINS DE LA KRIEGSMARINE 1935-1943 5éme partie : La fin.

17.50€

TTC

LES CUIRASSÉS DE POCHE DE LA KRIEGSMARINE

17.50€

TTC

Le tournant de la Bataille de l'Atlantique : Convoi ONS 5.

17.50€

TTC

BATTLESHIPS CLASS '' SOUTH DAKOTA ''.

17.50€

TTC