Available Price: 16.00 € 8.00 € VAT included 2.10 % : 0.33 €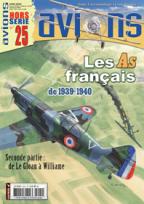 Les As Français de 1939-1940 (Tome 2).
Release of 30/01/2009
Author:
Par Alain Costes & Christophe Cony.
Edition:
HORS SERIE AVIONS N°25
ISBN :
The French aces 1939-1940. Part 2. Covers the remaining French aces 1939-40 from Le Gloan to Williame told through rare first-person accounts, over 200 archive & private photos (the in-flight shot of adjudtant-chef Denis Pontein's GC II/7 D.520 with sharkmouth marking caught my eye), logbook extracts and 37 profile artworks. Plenty of photographic highlights for the Luftwaffe enthusiast too. The pilot bios are built up around a detailed reconstruction of their victories** (A sample follows for English-language readers but please note the text in the monograph is in French only) Victor over Maj. Erich Mix (Kdr III./JG 2) on 21 May, S/Lt Hubert de Salaberry (GC I/3) was flying a patrol over the sector Proyart- Athies-sur-Somme on 05 June 1940. His 4th victim was a 109 that came down in woods near Amiens; ? ..up ahead of me I caught sight of a D.520 on its back with its gear extended, a rather unusual sight at this altitude. It was wreathed in a huge sheet of bright orange flame, blazing from the engine cowl to the tail fin like a huge torch. The cockpit seemed to have disappeared. It was a haunting sight in the bright blue sky. Less than one hundred metres behind it a Bf 109 continued to squirt out burst after burst of fire as if at a fairground shooting range, sporadic flashes of flame dancing along its wing leading edges. I was filled with an overwhelming desire to deal this 109 some of its own medecine. After a quick glance behind to check my rear, I dropped down in behind the ?Fritz'. He had seen me and understood straight away that the hunter was now the prey. He did what all German fighters do when they are caught napping ? he rolled onto his back and dropped like a stone, counting on being able to build up enough speed to put some distance between us. I wasn't about to let him go. I rolled with him and headed down vertically, my engine screaming with the throttle against the stop. I had full confidence in my aircraft, the Dewoitine is very stable and the engine & prop behaved themselves impeccably... Reeling the 109 slowly in during our headlong dive I unleashed several brief bursts from directly astern. The German pilot didn't react and continued on down. Suddenly I noticed the sky becoming darker, realised that the ground was rushing up toward us. Crushed by the deceleration as I eased out the dive I lost sight of the German. I orbited the area but could see nothing. Below me the countryside was peaceful and unremarkable...?
Format : A4
Pages number : 128
Pictures number : 258
Language : French
Color profiles : 37
Available Price: 8.00 €
Avions-bateaux suggestions :
LA 15.(Kroat.)/JG 52 SUR LE FRONT DE L'EST, 1941-1944.

17.50€

TTC

LES HYDRAVIONS DE CHASSE JAPONAIS AU COMBAT (2éme partie)

17.50€

TTC

LES HYDRAVIONS DE CHASSE JAPONAIS AU COMBAT (1e partie)

17.50€

TTC

Le Groupe de Chasse II/3. Charognards et Lévriers dans la tourmente, sept.1939-juin 1940.

17.50€

TTC

LES PERTES DES MESSERSCHMITT Me 262.

17.50€

TTC

LES AS DE L'AVIATION ISRAÉLIENNE.

17.50€

TTC

B-29 contre MIG-15 dans le ciel de Corée, ou la dernière guerre des "SUPERFORTRESSES"

17.50€

TTC