Out of stock, waiting back order Price: 14.00 € 7.00 € VAT included 2.10 % : 0.29 €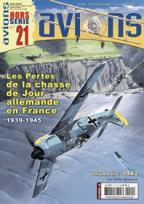 Les pertes de la chasse de jour allemande en France Vol.3 : 1942. Rest 14 copies then out of print !
Exclusivité internet!
Release of 29/06/2007
Author:
Pierre Watteeuw .
Edition:
HORS SERIE AVIONS N°21
ISBN :
This is the third installment of Pierre's Watteeuw's « Pertes de la Chasse allemande en France » - the most comprehensive listing of German fighter losses in France yet attempted and a meticulous work of research. This volume covers the year 1942, building a picture of the German fighter arm's activities in France through rare photos from private sources, logbook facsimiles, pilot bios and profile artwork from Thierry Dekker. This latest booklet (A4 softback 96 pages) principally focuses on JG 26 & JG 2 & the Erg./JGruppen. Excellent photo content - one full page shot of Lt. Martin Laube (1./JG 2) climbing into Fw 190 'Red 5' is particularly nice....Also includes corrections and additions to the first two volumes- with expanded photo section - in this on-going series ..the super cover illustration depicts the downing of 13-victory 5./JG 26 ace Ofw. Werner Gerhardt over Dieppe.. French text ... Recommended for Luftwaffe fans!
Format : A4
Pages number : 96
Pictures number : 111
Language : French
Color profiles : 18
Out of stock, waiting back order Price: 7.00 €
Avions-bateaux suggestions :
DÉRIVES & VICTOIRES - Tome II. Les marques des victoires aériennes de la chasse allemande au cours de la Seconde Guerre mondiale.

17.50€

TTC

LA 15.(Kroat.)/JG 52 SUR LE FRONT DE L'EST, 1941-1944.

17.50€

TTC

LES HYDRAVIONS DE CHASSE JAPONAIS AU COMBAT (2éme partie)

17.50€

TTC

LES HYDRAVIONS DE CHASSE JAPONAIS AU COMBAT (1e partie)

17.50€

TTC

Le Groupe de Chasse II/3. Charognards et Lévriers dans la tourmente, sept.1939-juin 1940.

17.50€

TTC

LES PERTES DES MESSERSCHMITT Me 262.

17.50€

TTC

LES AS DE L'AVIATION ISRAÉLIENNE.

17.50€

TTC