Available Price: 17.50 € VAT included 2.10 % : 0.36 €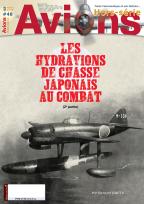 LES HYDRAVIONS DE CHASSE JAPONAIS AU COMBAT (2éme partie)
Release of 19/06/2018
Author:
Bernard BAEZA
Edition:
HORS SERIE AVIONS N°48
ISBN :
ISSUED JUNE 15, 2018.
In this vol.2 which takes the history of the Suisen in 1943, the Nakajima A6M2-N Rufe is engaged in the archipelagoes of the Kuriles, Indonesia and Micronesia before being supported but never replaced by his successor, the Kawanishi N1K1 Kyôfu (Rex), with whom he participated, in 1945, in the defense of the national territory. We discover, under the same alert and pleasant style and always with so many details and illustrations often unpublished, how both were found doomed to failure ...
With 190 photos, 13 cards & 20 color profiles.
Find the first part in the HS AVIONS N ° 47.
Format : A4
Pages number : 104
Pictures number : 190
Language : French
Color profiles : 20
Available Price: 17.50 €
Avions-bateaux suggestions :
LA 15.(Kroat.)/JG 52 SUR LE FRONT DE L'EST, 1941-1944.

17.50€

TTC

LES HYDRAVIONS DE CHASSE JAPONAIS AU COMBAT (1e partie)

17.50€

TTC

Le Groupe de Chasse II/3. Charognards et Lévriers dans la tourmente, sept.1939-juin 1940.

17.50€

TTC

LES PERTES DES MESSERSCHMITT Me 262.

17.50€

TTC

LES AS DE L'AVIATION ISRAÉLIENNE.

17.50€

TTC

B-29 contre MIG-15 dans le ciel de Corée, ou la dernière guerre des "SUPERFORTRESSES"

17.50€

TTC

HORS-SERIE AVIONS N°42 - Out of print !

17.50€

TTC