Available Price: 17.50 € VAT included 2.10 % : 0.36 €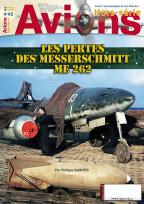 LES PERTES DES MESSERSCHMITT Me 262.
Release of 8/06/2017
Author:
Philippe SAINTES
Edition:
HORS SERIE AVIONS N°45
ISBN :
A voluminous literature has grown up around the Messerschmitt 262, the first jet fighter in history to have been committed in numbers to combat. Although the victories won by the "Schwalbe" (swallow) have often been described, few authors have described the losses of this revolutionary machine that was 'rushed' into action with plenty of teething issues still left to iron out including immature and unreliable jet engines. This monograph attempts to fill this gap by listing not only all the known losses of the type, but also by providing new biographies of the large number of aviators that flew it. At the end of the war, 'Schwalbe' pilot converting onto the type and then flying it in combat possessed a diverse range of experience and came from many different backgrounds, which makes it possible to better understand the men who struggled with this machine during the last months of the twilight of the Luftwaffe.

With more than 250 photos and 25 color profiles.
Format : A4
Pages number : 112
Pictures number : 250
Language : French
Color profiles : 25
Available Price: 17.50 €
Avions-bateaux suggestions :
LA 15.(Kroat.)/JG 52 SUR LE FRONT DE L'EST, 1941-1944.

17.50€

TTC

LES HYDRAVIONS DE CHASSE JAPONAIS AU COMBAT (2éme partie)

17.50€

TTC

LES HYDRAVIONS DE CHASSE JAPONAIS AU COMBAT (1e partie)

17.50€

TTC

Le Groupe de Chasse II/3. Charognards et Lévriers dans la tourmente, sept.1939-juin 1940.

17.50€

TTC

LES AS DE L'AVIATION ISRAÉLIENNE.

17.50€

TTC

B-29 contre MIG-15 dans le ciel de Corée, ou la dernière guerre des "SUPERFORTRESSES"

17.50€

TTC

HORS-SERIE AVIONS N°42 - Out of print !

17.50€

TTC