Available Price: 17.50 € 8.75 € VAT included 2.10 % : 0.36 €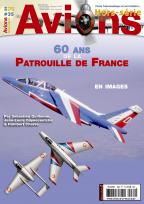 60 ans de la Patrouille de France en images.
Release of 17/05/2013
Author:
Sébastien Guillemin, Jean-Louis Gaynecoetche & Humbert Charve.
Edition:
HORS SERIE AVIONS N°35
ISBN :
The Patrouille de France will celebrate its 60th anniversary in 2013. For this occasion this special issue will trace the history of this exceptional unit Air Force. Through testimonies of pilots and mechanics (Delachenal, Noetinger, etc..) With many photos and color profiles.
Format : A4
Pages number : 128
Pictures number : 180
Language : French
Color profiles : 52
Available Price: 8.75 €
Avions-bateaux suggestions :
LA 15.(Kroat.)/JG 52 SUR LE FRONT DE L'EST, 1941-1944.

17.50€

TTC

LES HYDRAVIONS DE CHASSE JAPONAIS AU COMBAT (2éme partie)

17.50€

TTC

LES HYDRAVIONS DE CHASSE JAPONAIS AU COMBAT (1e partie)

17.50€

TTC

Le Groupe de Chasse II/3. Charognards et Lévriers dans la tourmente, sept.1939-juin 1940.

17.50€

TTC

LES PERTES DES MESSERSCHMITT Me 262.

17.50€

TTC

LES AS DE L'AVIATION ISRAÉLIENNE.

17.50€

TTC

B-29 contre MIG-15 dans le ciel de Corée, ou la dernière guerre des "SUPERFORTRESSES"

17.50€

TTC