Available Price: 29.90 € VAT included 5.50 % : 1.56 €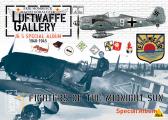 JG 5 - Special Album : 1940-1945
Release of 4/03/2019
Author:
Erik Mombeek & Maciej Goralczyk
Edition:
Special Luftwaffe Gallery 04
ISBN :
978-2-930546-21-6
 Nothing predestined these young men to one day encounter the grandiose landscapes of Norway or Lapland, as well as their hostile climates. Who would have predicted that so many of them would find their last resting places in the storm-tossed icy waters of the Arctic Sea or the snow-covered plains of the tundra? Who even now knows that the defeat of the Wehrmacht was precipitated by the failure to conquer Europe's northern-most small territory? 
Format : 210 x 297
Pages number : 96
Pictures number : 240
Language : English
Color profiles : 32
Available Price: 29.90 €
Avions-bateaux suggestions :
Histoire de la JG 2 Richthofen, Part.2 : 1941. Reissue

49.90€

TTC

JG 26, The Abbeville Boys. 1937-1945. Reissue !

29.90€

TTC

Histoire de la JG 2 Richthofen, Vol. 05. 1944.

49.90€

TTC

Luftwaffe Gallery N°04 - Reissue

18.00€

TTC

JG 77. Fighting on every front - 1938/1945. reissue

29.90€

TTC

Histoire de la JG 2 Richthofen, Vol. 03 : 1942. Reissue

49.90€

TTC

JG 54 Special Album : THE GREEN HEARTS

29.90€

TTC