Available Price: 29.90 € VAT included 5.50 % : 1.56 €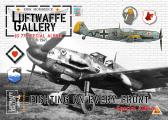 JG 77. Fighting on every front - 1938/1945. reissue
Release of 8/11/2018
Author:
Erik MOMBEEK
Edition:
Special Luftwaffe Gallery 02
ISBN :
We announce with pleasure the publication of the second volume in the series high in color Special Lufwaffe Gallery. It is dedicated this time to the JG 77.

This fighter wing, one of the most famous Luftwaffe is virtually unknown to the general public since no detailed history of this unit is not published in either French or English. JG 77 "Herz-As" (with the Ace of heart) has yet followed an exciting path, fighting on all fronts: from Norway to France, the British skies that of Stalingrad, Poland to North Africa, Sicily, Romania etc.

Discover this squadron is performing a real overview of the Second World War to the side of the biggest did like Bär, Gollob, Mücheberg, Ihlefeld, Steinhoff, Reinert .... The author of this superb album has done research for nearly 30 years to propose exceptional photographs from the albums of the survivors of the unit, or families of the missing drivers. He interviewed many of the survivors of the "Herz-As" and published in this album more of their untold stories.

Just like volume 1 dedicated to Abbeville Boys of JG 26 (collector become exhausted quickly because) it is illustrated with 30 superb profiles Thierry Dekker, about 300 photographs (most of which are published for the first time), the all about 96 pages in color.
Format : 29.7X21
Pages number : 96
Pictures number : 300
Language : English
Color profiles : 30
Available Price: 29.90 €
Avions-bateaux suggestions :
Histoire de la JG 2 Richthofen, Part.2 : 1941. Reissue

49.90€

TTC

JG 26, The Abbeville Boys. 1937-1945. Reissue !

29.90€

TTC

JG 5 - Special Album : 1940-1945

29.90€

TTC

Histoire de la JG 2 Richthofen, Vol. 05. 1944.

49.90€

TTC

Luftwaffe Gallery N°04 - Reissue

18.00€

TTC

Histoire de la JG 2 Richthofen, Vol. 03 : 1942. Reissue

49.90€

TTC

JG 54 Special Album : THE GREEN HEARTS

29.90€

TTC