Available Price: 49.90 € VAT included 5.50 % : 2.60 €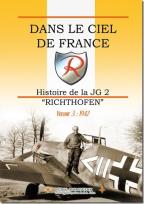 Histoire de la JG 2 Richthofen, Vol. 03 : 1942. Reissue
Release of 8/11/2018
Author:
Eric Mombeek
Edition:
Dans le ciel de France.
ISBN :
It took over sixty years for a detailed chronicle seems to Jagdgeschwader 2, the second fighter wing of the Luftwaffe. This unit, which operated mainly in France was one of the most famous and as such, one of the most "covered" by the German propaganda units. Named honorary "Richthofen" in 1935, the squadron fought successfully during the campaign in the west and during the Battle of Britain. She remained in France when most hunting units moved to the Soviet front in the spring of 1941. JG 2 received then the main task of defending the airspace Normandy and Brittany (and part of the sky picard) trespassing against Allied air, until the summer of 1944.
This third volume covers in detail the year 1942 with its fierce fighting against the RAF against the early incursions of American bombers in the French sky, as air commitments in North Africa, where a part of the "Richthofen" was sent after the Allied landings.
Despite the heavy losses suffered by the unit during the entire Second World War, the authors were able to find a hundred veterans of the squadron, living by their stories and their personal documents, give this column a human dimension that fail to touch the reader.
Format : A4
Pages number : 238
Pictures number : 350
Language : French
Color profiles :
Available Price: 49.90 €
Avions-bateaux suggestions :
Histoire de la JG 2 Richthofen, Part.2 : 1941. Reissue

49.90€

TTC

JG 26, The Abbeville Boys. 1937-1945. Reissue !

29.90€

TTC

JG 5 - Special Album : 1940-1945

29.90€

TTC

Histoire de la JG 2 Richthofen, Vol. 05. 1944.

49.90€

TTC

Luftwaffe Gallery N°04 - Reissue

18.00€

TTC

JG 77. Fighting on every front - 1938/1945. reissue

29.90€

TTC

JG 54 Special Album : THE GREEN HEARTS

29.90€

TTC