Available Price: 49.90 € VAT included 5.50 % : 2.60 €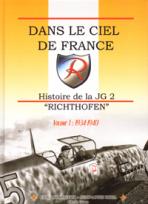 Histoire de la JG 2 Richthofen. Part.01. 1935/1940.
Release of 31/05/2007
Author:
E. Mombeeck, J-L Roba & C. Goss
Edition:
In the skies over France. Vol01.
ISBN :
Volume 1 of a comprehensive history of the 'Jagdgeschwader of the aces'. Covering the period from 1919 that led to the establishment of JG 2 and the subsequent deployment of the Richthofen in the Westfeldzug through the Battle of Britain to December 1940, 'In the skies of France' presents a day by day chronology and many new first hand accounts, detailing for the first time the story of the Richthofen's operations from Beaumont-le-Roger, Bernay, Cherbourg, Octeville, Théville, Couvron, St. Quentin, Signy, Evreux, Cézanne, Calais, Oye, Monceau St Vaast... among others. Written and researched over a twenty year period, the authors (co-written with Roba and Goss) have unearthed long-lost period documents and letters home and also enlisted support & contributions from veterans who have never previously collaborated with Luftwaffe authors and researchers such as Erich Rudorffer, who has written the foreword.. Approx 300 pages, 400 photos - many new to me - profile artwork and maps. French language text.
Format : A4
Pages number : 300
Pictures number : 421
Language : French
Color profiles : 16
Available Price: 49.90 €
Avions-bateaux suggestions :
Histoire de la JG 2 Richthofen, Part.2 : 1941. Reissue

49.90€

TTC

JG 26, The Abbeville Boys. 1937-1945. Reissue !

29.90€

TTC

JG 5 - Special Album : 1940-1945

29.90€

TTC

Histoire de la JG 2 Richthofen, Vol. 05. 1944.

49.90€

TTC

Luftwaffe Gallery N°04 - Reissue

18.00€

TTC

JG 77. Fighting on every front - 1938/1945. reissue

29.90€

TTC

Histoire de la JG 2 Richthofen, Vol. 03 : 1942. Reissue

49.90€

TTC