Out of stock, waiting back order Price: 23.00 € VAT included 5.50 % : 1.20 €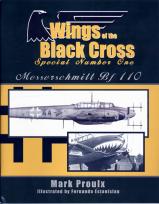 Wings of the Black Cross Special 01. Messerschmitt Bf 110.
Release of 1/02/2014
Author:
Mark Proulx
Edition:
EAGLE EDITIONS
ISBN :
978-0-914144-59-5
Announcing the first release in our exciting new series of books detailing specific aircraft flown by the Luftwaffe during WWII. Following the same format as the familiar and popular Wings of the Black Cross, each Special will provide supporting text and background, expanded photo coverage plus additional color profiles.

The initial release will focus on the Messerschmitt Bf 110 as it saw service throughout the war in many different roles. This 52 page book, 8.5" X 11", includes a brief history of the aircraft and its various operational roles, both day and night, and concludes with a concise history of the aircraft's camouflage and markings. Of the 77 photos, most are unpublished from the private collection of Mark Proulx plus a few from selected contributors, and are presented in large format. Extensive captioning provides specific details found in each image.

Highly regarded and recognized aviation illustrator Fernando Estanislau, brings his unique talents to Eagle Editions Ltd. for the first time, complimenting the book with ten detailed color profiles. His superb knowledge and attention to detail of the subject makes for some of the most accurate Bf 110 profiles ever created. Included are a number of color scrap views focusing on some of the nose art as applied to the Messerschmitt Bf 110.

Wings of the Black Cross Special Number One researched and written by Mark Proulx, provides a concentrated study of the Messerschmitt Bf 110, through photos, text and illustrations.
Format : A4
Pages number : 52
Pictures number : 77
Language : English
Color profiles : 10
Out of stock, waiting back order Price: 23.00 €
Avions-bateaux suggestions :
Wings of the Black Cross Special N°03 Messerschmitt Bf 109

24.00€

TTC

Wings of the Black Cross N°11

20.00€

TTC

Wings of the Black Cross Special 02. Junkers Ju 87 Stuka.

22.00€

TTC

Wings of the Black Cross N°10

20.00€

TTC

Wings of the Black Cross N°09

19.00€

TTC

Wings of the Black Cross N°08

18.00€

TTC

Wings of the Black Cross N°07

18.00€

TTC