Available Price: 12.50 € VAT included 5.50 % : 0.65 €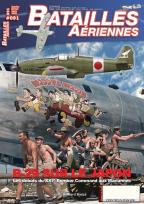 B-29 sur le JAPON - 3éme partie - Le 21th Bomber Command".
Release of 14/01/2020
Author:
Bernard BAEZA
Edition:
BATAILLES AÉRIENNES N°91
ISBN :
Pending replenishment, it will soon be available again!
Even before the first B-29 of the 58th Bomb Wing took the road to India and beyond, China, the US staff plans to open a second front on the territory Japanese himself. For these purposes, a decision was made to conquer the Mariana Islands as early as March 1944 and to make its main islands, Saipan, Tinian and Guam, the bases of the XXI Bomber Command which officially saw the light of day on March 1, 1944. strategists mind, the latter must be the jaw "south" of the pincer (the XX Bomber Command is the jaw "north") thanks to which the allied camp hopes to see the 20th Air Force crush Japan as literally as figuratively ...

Everything is written in this introduction to the next issue of Air Battles. At the risk of repeating ourselves, this is the very first time that this subject is approached in French in such a detailed way! The author, Bernard Baéza, did not just browse the American archives, he also "plunged" into Japanese documents. This produces a very balanced and hyper-detailed account of this part of the Pacific War. We will see that the main enemy of the B-29 was not really the Japanese hunt but ... the weather!

But Bernard Baéza is not unknown to our readers since he has already written articles for Airplanes on the Japanese fighter (Navy and Army) as well as two books that are undoubtedly authoritative on Guadalcanal and another one on airplanes Imperial Army.
NEWSPAPER.
Air Battles n ° 091 "B-29 on Japan 3rd part: the beginnings of the XXI Bomber Command in the Marianas" by Bernard Baëza
3rd volume devoted to the battles of B-29 over Japan, this time Bernard Baëza takes us to the Marianas, new base of B-29 sent to Japan.
As in the previous episodes, the "myth" B-29 is a bit broken, especially in front of the jet stream… which results, again (see 1st volume) in many meetings without result (objectives missed on the USAAF side and not means of initiating combat on the Japanese side). The author was able to find memories on both sides which allows him to reconstruct the (rare) fights with as much detail as possible (remarkable pages). But the most striking thing is that many B-29s appear to have more disappearance losses over the Pacific.
Sporadic attacks by Japanese on aerodromes in the Marianas are mentioned, as are boarding attempts attempted with varying degrees of success by Japanese forces.
A work pleasant to read because of its lack of bias: American and Japanese are shown to be at least as opposed to the elements as to each other with their internal problems (especially on the American side moreover) and their frustrations ( two sides).
For the iconography, we will find:
53 photos of US planes (mainly B-29 of course!)
32 photos of Japanese planes (Ki-45, J1N1-S, J2M)
37 pilot photos
· 17 color profiles, generally accompanied by convincing photos.
Conclusion: not to be missed ... especially as as reported by the editor, the Pacific War and more specifically the operations of the B-29s are little covered by the French edition.

© Modelstories 2020
Format : A4
Pages number : 96
Pictures number : 200
Language : French
Color profiles : 18
Available Price: 12.50 €
Avions-bateaux suggestions :
B-29 sur le JAPON - 4éme partie. Les débuts du XXI Bomber Command aux Mariannes.

12.50€

TTC

ABONNEMENT BATAILLES AERIENNES 1 AN

50.00€

TTC

1919 - The Great War. Conflicts and Post-Armistice Wars.

12.50€

TTC

B-29 sur le JAPON - 2éme partie - Le 20th Bomber Command et l'Opération "Matterhorn".

12.50€

TTC

B-29 sur le JAPON - 1ére partie - Le 20th Bomber Command et l'Opération "Matterhorn".

12.50€

TTC

La Luftwaffe sur Malte. 3éme partie. Rest 19 copies then out of print !

12.50€

TTC

La Luftwaffe sur Malte. 2éme partie. Out of print

12.50€

TTC