Available Price: 12.50 € VAT included 5.50 % : 0.65 €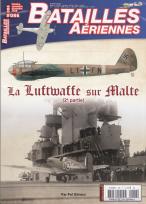 La Luftwaffe sur Malte. 2éme partie.
Release of 16/10/2018
Author:
Pol Glineur
Edition:
BATAILLES AÉRIENNES N°86
ISBN :
After the last issue dedicated to air operations of the First World Conflict, return to the Mediterranean and more precisely to Malta, where the Luftwaffe, despite relatively small numbers, caused great suffering to the units of the RAF assigned to the defense of the island. The reader will be able to note that the fighting was very hard in the first four months of 1942 mentioned in this issue. Once again, the author managed to collect the appropriate photos to illustrate a very precise account of the operations, which was not easy! We let you discover this work which will be followed by a third and last part (BA 87).
Format : A4
Pages number : 96
Pictures number : 130
Language : French
Color profiles : 20
Available Price: 12.50 €
Avions-bateaux suggestions :
B-29 sur le JAPON - 1ére partie - Le 20th Bomber Command et l'Opération "Matterhorn".

12.50€

TTC

La Luftwaffe sur Malte. 3éme partie.

12.50€

TTC

ABONNEMENT BATAILLES AERIENNES 1 AN

50.00€

TTC

1918 - THE GREAT WAR. From German offensives to Allied final victory.

12.50€

TTC

La Luftwaffe sur Malte. 1ére partie.

12.50€

TTC

Opération "Steinbock". La dernière grande offensive de la Luftwaffe sur l'Angleterre. out of print !

12.50€

TTC

BLITZ: the Luftwaffe on the British Isles. 2nd part: from 1st April to 22nd June 1941. Rest 12 copies puis épuisé !

12.50€

TTC