Available Price: 45.00 € VAT included 5.50 % : 2.35 €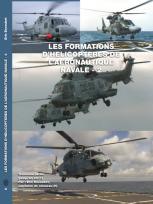 Les formations d'Hélicoptères de l'Aéronautique Navale - 2.
Release of 15/06/2018
Author:
Éric ESCOUBET
Edition:
ARDHAN N°40
ISBN :
978-2-913344-32-7
The relationship of the history of the helicopter formations of the Naval Aeronautics began in the book n ° 38 of the ARDHAN, published in June 2017, by its first two parts relating to the beginning of the rotating wings in the Naval Aeronautics , then to the rise of the helicopters during operations in Indochina and Algeria, and finally to their confirmation in their operational role in ASM, tactical transport and maritime rescue, with the implementation of helicopters that have been removed from service.

But the activity of helicopter formations continued, with the commissioning of new types of aircraft, and the third part of this story, consists in the relationship of these new activities: the object of this book N ° 40 of the ARDHAN is the history of the current formations since they implement their current helicopters, until the year 2017.
Format : A4
Pages number : 308
Pictures number : 300
Language : French
Color profiles : 8
Available Price: 45.00 €
Avions-bateaux suggestions :
LA BASE D'AÉRONAUTIQUE NAVALE DE BERRE (1919-1972)

50.00€

TTC

L'Aéronautique maritime dans la Grande Guerre.

29.00€

TTC

Capitaine de Corvette Robert Giraud (1899-1940). Dit le Bon-Gi, marin et pilote mort pour la France.

21.00€

TTC

VOL AU VENT MARIN. Un regard sur l'histoire de l'Aéronautique Navale.

42.00€

TTC

Les formations d'Hélicoptères de l'Aéronautique Navale - 1.

45.00€

TTC

La Base d'Aeronautique Navale de Port-Lyautey (1919-1962)

30.00€

TTC

L'AÉRONAUTIQUE MARITIME EN 1916.

10.00€

TTC