Available Price: 16.00 € VAT included 5.50 % : 0.83 €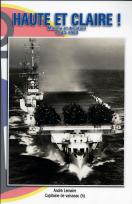 HAUTE et CLAIRE - Marine et Aviation 1943-1980.
Release of 1/09/2014
Author:
André Lemaire - Capitaine de Vaisseau
Edition:
ARDHAN N°33
ISBN :
This book has been written by a grandfather to his grandchildren. It relates André Lemaire's rich carrer in the French Naval Air Arm, in which he entered during the war after leaving France and joining the fighting French in 1943 and retired as a captain in 1980. Well illustrated by tens of photos, read it as a novel !
Format : 15.5 x 24
Pages number : 240
Pictures number : 150
Language : French
Color profiles :
Available Price: 16.00 €
Avions-bateaux suggestions :
LA BASE D'AÉRONAUTIQUE NAVALE DE BERRE (1919-1972)

50.00€

TTC

L'Aéronautique maritime dans la Grande Guerre.

29.00€

TTC

Capitaine de Corvette Robert Giraud (1899-1940). Dit le Bon-Gi, marin et pilote mort pour la France.

21.00€

TTC

Les formations d'Hélicoptères de l'Aéronautique Navale - 2.

45.00€

TTC

VOL AU VENT MARIN. Un regard sur l'histoire de l'Aéronautique Navale.

42.00€

TTC

Les formations d'Hélicoptères de l'Aéronautique Navale - 1.

45.00€

TTC

La Base d'Aeronautique Navale de Port-Lyautey (1919-1962)

30.00€

TTC