Bientôt en rupture Price: 50.00 € VAT included 5.50 % : 2.61 €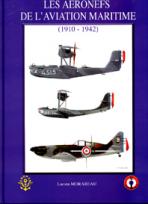 Les Aéronefs de l'Aviation Maritime 1910-1942.
Release of 1/03/2008
Author:
Lucien Morareau
Edition:
ARDHAN N°14
ISBN :
Reissue of this great work that had been quickly exhausted. You will discover all aircraft operated by the Maritime Aviation, since its inception in 1910 until 1942. Each type of device is presented with a text, one or more photos and a map. Color profiles in the center of the book. Not to be missed! Between 1910, when it acquired its first airplane to the present day, the French Naval Aviation has implemented approximately 11,000 aircraft of more than 350 different types, airplanes, seaplanes, gyroplanes, helicopters and even gliders , all used by sailors. To date, the full list of these devices has never been precisely established and ARDHAN had to try to fill that void. The task was not easy as the official archives of the Navy has suffered the effects of World War II and had to look elsewhere for the necessary information whose sources were multiple, but the main contribution came from the personal archive collected from thousands of former seafarers of maritime aviation. This search for specific information has also led to compulsive publications of the period to try to find features and performance of the devices described in this book. Some of the aircraft described in this volume stole a few months or even weeks, in the hands of French sailors, while others were used for over a decade. Yet the tiny Besson MB.35 built as aboard the submarine Surcouf to the imposing Latécoère 611 Achernar air can hold more than two hours, all have their place in the rich history of the French Maritime Aviation.
Format : A4
Pages number : 590
Pictures number : 300
Language : French
Color profiles : 32
Bientôt en rupture Price: 50.00 €
Avions-bateaux suggestions :
LA BASE D'AÉRONAUTIQUE NAVALE DE BERRE (1919-1972)

50.00€

TTC

L'Aéronautique maritime dans la Grande Guerre.

29.00€

TTC

Capitaine de Corvette Robert Giraud (1899-1940). Dit le Bon-Gi, marin et pilote mort pour la France.

21.00€

TTC

Les formations d'Hélicoptères de l'Aéronautique Navale - 2.

45.00€

TTC

VOL AU VENT MARIN. Un regard sur l'histoire de l'Aéronautique Navale.

42.00€

TTC

Les formations d'Hélicoptères de l'Aéronautique Navale - 1.

45.00€

TTC

La Base d'Aeronautique Navale de Port-Lyautey (1919-1962)

30.00€

TTC