Available Price: 13.00 € VAT included 5.50 % : 0.68 €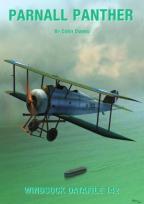 Windsock Datafile - 142. Parnall Panther
Exclusivité internet!
Release of 1/08/2010
Author:
Colin Owers
Edition:
ALBATROS PRODUCTIONS
ISBN :
Not one of 'The Great War's' most well-known designs, but the Parnall Panther fleet spotter of 1918 was revolutionary in many ways. Colin Owers provides a detailed and fascinating account of the plump Panther recording its service career and novel construction features in great depth, the narrative supported by over 56 rare photos, very few of which have ever been published hitherto. Martin Digmayer provides the 1:72 and 1:48 scale plans, with Ronny Bar and Jerry Boucher contributing some excellent cover art. Contemporary sketches, detailed appendices, colour notes and more round of this truly unique DATAFILE.
Format : A4
Pages number : 32
Pictures number : 56
Language : English
Color profiles : 3
Available Price: 13.00 €
Avions-bateaux suggestions :
Building the Wingnut Wings N°9 - HALBERSTADT CL.II

31.00€

TTC

Building the Wingnut Wings N°8 - HANNOVER CL.II

29.50€

TTC

BUILDING THE WINGNUT WINGS : THE DOLPHIN AND PFALZ D.IIIA.

30.00€

TTC

BUILDING THE WINGNUT WINGS : JUNKERS D.I

30.00€

TTC

BUILDING THE WINGNUT WINGS : GOTHA G.IV. Reissue !

32.00€

TTC

BUILDING THE WINGNUT WINGS : SOPWITH CAMELS (&LVG C.VI)

31.00€

TTC

Windsock Datafile - 174 - PFALZ D.IIIA AT WAR ! Vol.2

16.00€

TTC