Available Price: 14.00 € VAT included 5.50 % : 0.73 €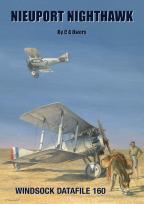 Windsock Datafile - 160 - Nieuport Nighthawk.
Release of 1/08/2013
Author:
C. A. OWERS01
Edition:
ALBATROS PUBLISHING
ISBN :
HAD the 'Great War' continued into 1919,the radial -engined Nieuport Nighthawk may well have ousted the Sopwith Snipe as the Royal Air Force's premier Front-line fighter. It was not to be: a few examples went out to the Middle East,others were converted to air racers,yet more went to the Japanese Navy for shipborne trials.All of this and more is chronicled by Colin Owers in our 160th DATAFILE that includes over 70 rare archive photos.There are also detailed 1:48 and 1: 72 scale plans;airframe sketches, and superb colour profiles by Ronny Bar illustrating nine colourful examples of Nighthawks and variants from 1918-1923-all topped off by Paul Monteagle's brilliant cover painting!
Format : A4
Pages number : 32
Pictures number : 70
Language : English
Color profiles : 9
Available Price: 14.00 €
Avions-bateaux suggestions :
Building the Wingnut Wings N°9 - HALBERSTADT CL.II

31.00€

TTC

Building the Wingnut Wings N°8 - HANNOVER CL.II

29.50€

TTC

BUILDING THE WINGNUT WINGS : THE DOLPHIN AND PFALZ D.IIIA.

30.00€

TTC

BUILDING THE WINGNUT WINGS : JUNKERS D.I

30.00€

TTC

BUILDING THE WINGNUT WINGS : GOTHA G.IV. Reissue !

32.00€

TTC

BUILDING THE WINGNUT WINGS : SOPWITH CAMELS (&LVG C.VI)

31.00€

TTC

Windsock Datafile - 174 - PFALZ D.IIIA AT WAR ! Vol.2

16.00€

TTC