Available Price: 15.00 € VAT included 5.50 % : 0.78 €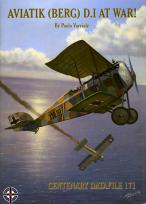 Windsock Datafile - 171 - AVIATIK (BERG) D.I AT WAR !
Release of 1/03/2016
Author:
Paolo Varriale
Edition:
ALBATROS PRODUCTIONS
ISBN :
This revisionist study of the Austro-Hungarian Aviatik [Berg] D.I fighters is penned by Italian historian Paolo Varriale and boasts extra colour pages to cover its subject as never before. With scores of rare photos to support the author's learned narrative,the book not only concentrates on the types' complex development but also its chequered combat career with the KuK in great detail. Lending further graphic support are nine pages of superb scale plans in 1:48 and 1:72 scales from Steve Simkin , plus nine all-new colour profiles by Ronny Bar.This lavishly-illustrated volume provides the modeller and WWI aero-enthusiast with unique and highly authoritative coverage of a true classic 'Great War' fighter aeroplane- all topped off by Roberto Zanella's stunning cover painting.
Format : A4
Pages number : 36
Pictures number : 84
Language : English
Color profiles : 9
Available Price: 15.00 €
Avions-bateaux suggestions :
BUILDING THE WINGNUT WINGS : THE DOLPHIN AND PFALZ D.IIIA.

30.00€

TTC

BUILDING THE WINGNUT WINGS : JUNKERS D.I

30.00€

TTC

BUILDING THE WINGNUT WINGS : GOTHA G.IV. Reissue !

32.00€

TTC

BUILDING THE WINGNUT WINGS : SOPWITH CAMELS (&LVG C.VI)

31.00€

TTC

Windsock Datafile - 174 - PFALZ D.IIIA AT WAR ! Vol.2

16.00€

TTC

Windsock Datafile 173 - PFALZ D.IIIA AT WAR ! Vol.01

16.00€

TTC

Windsock Datafile - 172 - THE RAF BE2C AT WAR !

15.00€

TTC