Available Price: 14.50 € VAT included 5.50 % : 0.76 €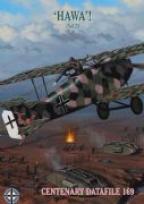 Windsock Datafile - 169 - "HAWA" ! Vol.2
Release of 1/09/2015
Author:
Ray Rimell & Harry Woodman.
Edition:
ALBATROS PRODUCTIONS
ISBN :
978-1-906798-44-4
The second 'Hawa' volume concludes our detailed coverage of the 'Hannoverana' seies with more archive photos,several previously unpublished,and all-new Mick Davis GAs in 1:48 and 1:72 of both the CL.III and CL.IIIA variants.The new DATAFILE's content has been extended to include the CL.IV and CL.V types for which latter 1:48 scale drawings by the late Ian Stair are also presented. With a detailed look at the Argus powerplant [with colour close-ups]; three more pages of fabulous colour profiles by Ronny Bar;extended camouflage and markings notes from Ray Rimell; plus several pages of detailed airframe and fittings sketches from the 1918-published Hannover handbook, this is yet another great reference package!
Format : A4
Pages number : 32
Pictures number : 55
Language : English
Color profiles : 9
Available Price: 14.50 €
Avions-bateaux suggestions :
BUILDING THE WINGNUT WINGS : THE DOLPHIN AND PFALZ D.IIIA.

30.00€

TTC

BUILDING THE WINGNUT WINGS : JUNKERS D.I

30.00€

TTC

BUILDING THE WINGNUT WINGS : GOTHA G.IV. Reissue !

32.00€

TTC

BUILDING THE WINGNUT WINGS : SOPWITH CAMELS (&LVG C.VI)

31.00€

TTC

Windsock Datafile - 174 - PFALZ D.IIIA AT WAR ! Vol.2

16.00€

TTC

Windsock Datafile 173 - PFALZ D.IIIA AT WAR ! Vol.01

16.00€

TTC

Windsock Datafile - 172 - THE RAF BE2C AT WAR !

15.00€

TTC